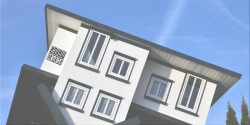 My family's world was turned upside down in the latter half of 2017 as we faced several life-threatening health issues. One of our worst fears was realized when my mother suddenly passed away in October. On the heels of that loss we made the tough decision to move my Dad from New York to Massachusetts. With the help of our amazing family and friends, we got his apartment packed, it all moved, and him transitioned into his new home by the end of November.
Starting the new year, Dad is settled into his new place. He is doing okay, but that's about as well as one could hope for from someone who lost their spouse of 50+ years then moved to a new home in a different state within a few weeks. I'm managing his affairs and am able to visit him several times a week.
Caring and providing for my family has always been the focus of my life and now I have widened that scope to include an active role in taking care of my Dad. I hope to show him some of the love, compassion, and generosity that he and Mom showed me throughout my life.
Yes, this is challenging to manage, especially with a wife and two young children to whom I am devoted. This is how things are now, looking at this end up. For us, it's a new normal. I choose to see this as a gift: I can now spend more time with my Dad, just as it is opportunity for my children to get to know their grandfather far better than they could have when he lived 500 miles away. I regret their not having had the same opportunity with my Mom.
---